---
Challenge
In order to increase Crislu Corporation's sales and profitability, management determined a need to develop company priorities, strategies and goals to ensure proper focus on key "high return" areas for the entire company. In addition, Crislu determined a need to improve cash flow in order to support the needed growth.
Solution
With the help of CMTC®, Crislu Corporation embarked upon a detailed strategic planning process during the fall of 2004. Over the next 5 months, the group assessed the company's current strengths, weaknesses and gaps. An order-to-cash benchmark was established to identify business process improvements that could be implemented internally. Marketing, sales and production goals were established. Management then developed, scheduled, documented and applied resources to support achievement of these goals. Monthly marketing and operational plans were developed to ensure consistent focus.
Improvement Description
Through the use of their monthly marketing and operations plans, management was able to plan better by connecting marketing and product forecasts with production. As a result, company resources, i.e. cash and manpower, were used more efficiently. Crislu saw an increase in sales as a direct result of focused marketing and sales efforts. Efficiencies also led to a reduction in inventory and delivery lead-time improvements.
Financial and Investment Impact
Crislu took the time to implement a very detailed strategic planning process and as a result, was able to realize benefits in the first 12 months which included a 36% sales increase, 20% profit increase and 4-day delivery lead-time improvement.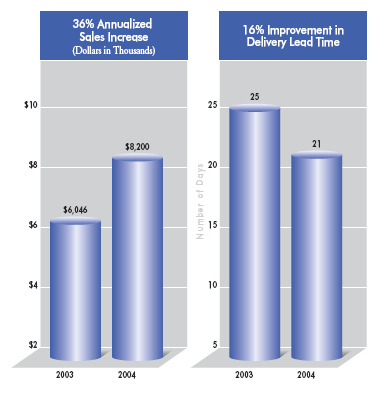 "CMTC's strategic planning process led us to a 20% retention in lead time, 36% increase in sales and a 20% increase in profits."

Bryan Crisfield - President