---
Challenge
Luminit witnessed significant growth in recent years and was ranked in 2010 in Fortune Magazine as one of the fastest growing private companies. The company needed to update its ISO 9001 certification. The company wanted to continuously improve its quality management system to increase customer satisfaction and compliance. Cost savings from improvements could be invested into other areas of the company such as plant and equipment and workforce development initiatives.
Solution
Luminit was referred to CMTC ® to assist the company in their internal auditor training for ISO 9001 certification and began working with Luminit in May, 2011. Consultants worked with Luminit to document and implement procedures and process auditing in order to improve the company's operational performance and to meet the requirements for ISO 9001 certification. This training was completed in three weeks and helped Luminit identify key areas for improvements.
The training and coaching CMTC provided allowed Luminit to successfully achieve their ISO 9001 certification renewal. These improvements contributed to the company's ability to meet the needs of its current customers while addressing orders from new clients obtained through the certification update.
"We were very satisfied with the overall response, attentiveness and quality of the work done with CMTC. Our contacts were knowledgeable, professional and helped us accomplish our goals. I would recommend CMTC to other companies in the area."

- Edward Kaiser
Vice President of Operations


Download This Case Study
$1.3M New and Retained Sales

(Dollars in Millions)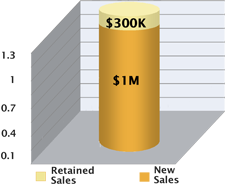 12 Jobs Created and Retained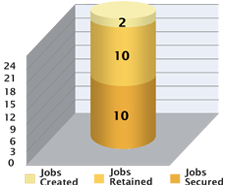 Financial & Productivity Results
$1.3M in new and retained sales
$300,000 in new sales
2 new jobs created
$520,000 in costs saved
$100,000 in plant and equipment invested
$80,000 in workforce development invested