---
Challenge
Ne-Mo's successfully emerged from a single baker selling products locally into a full service commercial distributor. Sales rely heavily on the effectiveness of the production line of its square cakes products. The company needed to increase plant capacity while reducing costs because of a major sales opportunity from a national coffee chain. The organization needed help to design the production line efficiently to meet mandatory inventory requirements.
Solution
In May 2010, CMTC conducted an initial planning meeting with Ne-Mo's. CMTC worked with plant management to understand its current manufacturing operations and developed a Value Stream Map. This served as the basis for designing and implementing continuous improvements. CMTC provided specific recommendations to increase capacity while reducing production and labor costs.
CMTC helped the organization determine how the new production line would integrate into its existing plant layout and processes to meet the requirements for the national coffee chain contract. These improvements led to $8 million in new sales and 50 new employees. CMTC also provided change management coaching. The implemented initiatives improved efficiencies and reduced production costs by $120,000, allowing them to retain 20 jobs and invest capital into areas such as equipment and workforce training.
"CMTC and the MEP system deliver results. Through their Lean Manufacturing initiatives, we were able to improve our processes which greatly reduced our costs. Their input on designing our new production line increased our sales and allowed us to hire 50 new people."

Frank Kieffer
VP of Operations

Download This Case Study
$8M Sales Increased
(Dollars in Millions)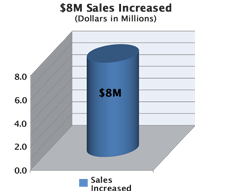 70 Jobs
Retained & Created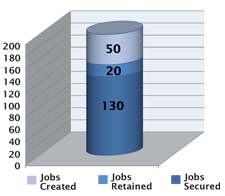 FINANCIAL & PRODUCTIVITY RESULTS
$8M sales increased
$120,000 cost savings earned
50 new jobs created
20 positions retained