---
Challenge
QSC Audio Products has focused on innovation, evolving to meet their customers' demands and technological advancements. With new product line developments, QSC Audio Products found it difficult to integrate the processes between their various departments. Inventory was not matching up with sales needs, resulting in a stockout or overstock of many products. A more strategic and organizational plan to improve efficiencies was needed.
Solution
In November, 2010, CMTC Consultants met with QSC Audio Products to identify top challenges and create an initial plan. Consultants recommended an operations improvement program to develop cohesiveness between departments and better coordinate operations.
The initiative required department managers to meet with CMTC consultants for four hours each week. Under CMTC's guidance, the team would select a particular area to review, discuss specific challenges and how it impacted each department. Inefficiencies were identified and CMTC worked with the team to implement new procedures. As a result, the organization worked to eliminate stockout and overstock. This allowed QSC Audio Products to better serve the needs of its customers. CMTC returned for sustainment visits in order to maintain the momentum gained from the program. The process concluded in March, 2011.
"We have made sustainable progress with CMTC's help and could not have gotten to where we are now with our S&OP process without their assistance. Their input allowed us to invest in growth opportunities."

Wendy Jaquez
Vice President of Global Materials & Logistics

Download This Case Study
$2.4M Sales Increased (Dollars in Millions)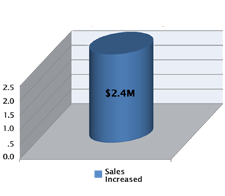 Financial & Productivity Results
$2.4M in retained sales
1 job created
1 job retained