---
Challenge
Stolo Cabinets began to focus on growth and wanted to develop new products to better serve customers, diversify its product line and generate new sales. However, rising production costs were preventing the organization from investing resources into growth initiatives. Inefficiencies on the shop floor was the main challenge and bottlenecks were impacting the company's ability to complete orders on time.
Solution
Stolo Cabinets received a grant from the Orange County Workforce Investment Board (WIB) to receive assistance from California Manufacturing Technology Consulting® (CMTC). CMTC's consultants were enlisted to help Stolo Cabinets improve its manufacturing process and save on production costs, freeing resources to invest in growth.
CMTC used a Lean simulation technique which taught employees how to become more efficient and to pinpoint where they were wasting materials during the production process. Employees were also coached on a workforce organization method (5S) which helps to restructure the workspace and equipment to maximize effectiveness on the shop floor. The company was able to reduce bottlenecks and address demand more quickly and efficiently.
"We have really come together as a team to achieve our goals of sustained company growth. Working with CMTC has really empowered our workers to 'Do it Right the First Time' and become more involved in the development of our manufacturing processes."

--Marty Rivers
Production Manager

Download This Case Study
$800K New and Retained Sales

(Dollars in Thousands)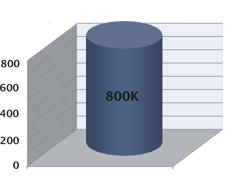 17 Jobs Created and Retained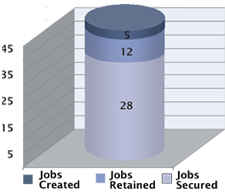 Financial & Productivity Results
$800,000 in new sales
5 new jobs created
12 jobs retained
$300,000 in costs saved
$20,000 in new product investments
$20,000 in plant and equipment investments
$10,000 in workforce development invested