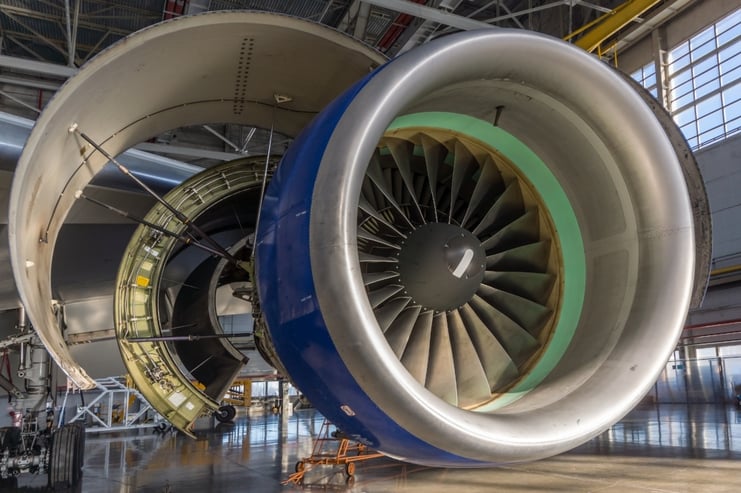 A Deloitte 2017 study on the global aerospace and defense (A&D) industry reveals that the industry grew by 2.4% and generated about $674 billion in 2016.
While the growth was modest, the study forecasts that 2017 revenues are likely to grow due to lower fuel costs, stronger passenger travel demand – especially in the Asia-Pacific and Middle East regions – and a stable global GDP. This is an opportune time for aerospace supply chain stakeholders to brace for an anticipated expansion in their sector.
Aerospace Supply Chain Management Issues
Changing passenger requirements and emerging technologies have driven aircraft companies to create competitive strategies to get a bigger share of the aerospace market. These strategies have led to the complexity of aircraft design, processes, and aerospace supply chain management.
Aircraft manufacturers are under increasing pressure to cope with backlogs of orders. Boeing and Airbus, two of the biggest commercial aircraft companies in the world, continue to retain thousands of undelivered orders. In 2016, Boeing reported 5,715 undelivered orders and Airbus, 6,874. While backlogs can be seen as a boon for the aerospace supply chain business, it can also be a bane to the aircraft industry if suppliers can't meet the demand.
Here are common aerospace supply chain management issues that contribute to the increasing complexity of the supply chain that all stakeholders need to seriously consider.
Issue # 1: Sourcing of Raw Materials
Metals, such as steel, aluminum, titanium, copper, magnesium, manganese, nickel, chromium, and many others, are the primary materials used for the manufacture of aircraft. No one country has a monopoly of the supply of these metals because the markets are widely distributed in different regions around the globe. Their timely delivery depends on their geophysical location and with qualities that meet the requirements of aircraft manufacturing. Non-metal raw materials, such as wood, plastics, rubber, textile, and chemicals, are also critical components that need the attention of procurement managers.
Procurement managers are faced with the decision of finding suppliers based on clear-cut material specifications, costs, transportation modes, and delivery timelines. They need to ask themselves: What materials do I need in one, five, and ten years from now? What regions produce the best raw materials? Do suppliers have the capacity to supply me with raw materials when I need them? How much will the raw materials cost?
Issue # 2: Mitigating Supply Disruption Risks
There is always the risk of supply being constrained or limited due to incorrect prediction of future demand, inaccurate pricing projections, design change, and political disruptions or geo-environmental issues such as climate and natural disasters. Supply disruption can be mitigated with a two-pronged approach. The short-term approach takes care of monthly, quarterly, and annual purchases which are often done as spot buys. The long-term approach considers lock-in contracts for five to ten years with both primary and secondary suppliers.
Understanding the supplier's business is another important factor that helps aircraft companies forge long-term supplier relationships. Companies need to work closely with their suppliers in reviewing cost drivers and market trends to mitigate risks against inflation. Knowing the supply portfolio of suppliers is yet another essential aspect in raw material procurement that allows buyers to review current and future requirements, including raw material mix and availability of alternative materials and sources.
Issue # 3: Coping with Modernization and Emerging Technologies
Aerospace supply chain players are struggling to keep pace with modernization technologies such as automation, robotics, and standardization. For instance, the new technologies pioneered on military aircraft in recent decades and later transferred to civil jets caused production delays in these commercial projects. Each new program created delays in the supply chain such as the wiring problems on the Airbus A380 superjumbo and the software complication on the Airbus A400M military transporter.
Software glitches caused a slow start on an engine type available on the A320 one even as Pratt & Whitney spent two decades and more than a billion dollars developing its innovative turbofans. The late delivery of lavatories and business class seats from Zodiac Aerospace factories in the U.S. also delayed completion of Airbus's new wide-body A350.
These aforementioned experiences prove it's wise to balance reliability on human technology – and not depend too heavily on machinery alone to develop engines and equipment.
Issue # 4: Shortage of Skilled Workers
While production has ramped up due to increasing demand, there is limited expertise in supporting new programs. Training is not rapid enough to advance the needs of the workforce and there are limited skill sets available in managing complex projects.
Technological advancements will remain at the center of A&D industry growth, but aviation companies and the aerospace supply chain need to hone their human capital on emerging technologies that drive their industry, such as additive manufacturing, machine learning, blockchain, and smart automation, among many more.
Takeaway
Today's aerospace supply chain is complex, global, and more vulnerable than ever. Lessons from the biggest aircraft companies, Boeing and Airbus, on severe supply chain disruptions on the delivery of next-generation aircraft models, should not be ignored. In the capital-intensive aviation industry, an agile and resilient supply chain, aside from efficient production processes, merits the highest level of attention.