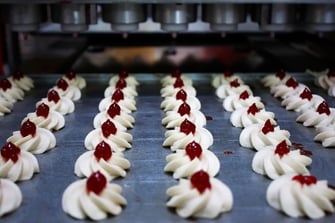 In the United States alone, the food manufacturing industry is made up of approximately 21,000 companies and generates a revenue of about $760 billion. One of the five fiscally largest food manufacturers in the United States is California which is a leader in raw milk production and tomato processing. California also holds the title for the largest producer of almonds worldwide and leads the way in the production of fruits, nuts and vegetables, with a total of over 76,000 farms throughout the state.
In 2015, the Bureau of Labor Statistics reported that California has approximately 3,700 food manufacturers employing over 147,000 people (excluding agricultural food production).
This industry is highly competitive, which is why it is important to be efficient, stay up-to-date with nutritional trends and consumer tastes. Understanding the challenges and opportunities in both the industry and the market are important for any food manufacturer. The food and beverage industry is comprised of a wide range of products including:
Coffee & tea

Soft drinks

Juices

Milk

Seeds

Meats

Baked goods

Candy
Competing by Efficiency
Revenue in the food and beverage industry stems from the demand that's driven by consumption, population growth, consumer tastes and disposable income. However, the profitability of each company depends on how efficiently it is run.
Food and beverage companies are competing on the basis that they can distribute a finished, desirable and quality product better than their competitors. About 50 of the largest companies are responsible for over half of the industry's revenue. However, small food and beverage manufacturers are more effective at beating out their competition in local or regional markets by developing more popular products and ensuring their processes are up-to-date and efficient, as outlined in the case study at the end of this blog post.
Industry Trends
Global Trend Regarding Wholesome Fats
You may have noticed a growing shift in the way food is packaged and advertised. This is due to consumers decreasing demand for the heavily processed foods that are loaded with trans fats. Consumers are ditching the trans fats and transitioning to foods that contain more natural ingredients and are high in saturated fats including:
Organic dairy products
Grass-fed meats
Natural oils
Nuts
Based on an analysis of over 400 research papers conducted by Credit Suisse, "Global consumption of butter is growing globally at a rate of 2-4% annually; whole milk sales are up 11%, while skim milk sales are down 14% in the US in the last six months; and organic egg consumption in the US is up 21% in the last 12 months. The report shows that fat consumption will continue to grow over the next fifteen years with fat accounting for 31% of calorie intake by 2030, up from 26% currently. Saturated fat should account for 13% of all calorie intake by 2030, from about 9% now."
What does that mean for food manufacturers? Some food and beverage manufacturers may want to investigate the possibility of full-fat dairy products including:
Butter

Cheese

Yogurt

Milk
As we stated earlier, part of the food and beverage demand is dependent on consumer tastes which are shifting from processed snacks to healthy and fresh foods.
Spices are the Alternative to Dyes
As consumer food preferences continue to shift away from trans fat foods towards healthier alternatives, they are also rejecting foods that contain artificial dyes. Food manufacturers are testing out natural ways of coloring their processed foods through various spices.
For example, an alternative is to use turmeric rather than yellow #5 and yellow #6 dyes in packaged products like macaroni and cheese.
Other food manufacturers are using paprika to emulate the color orange in sausages and frostings.
As manufacturers try and test various natural ingredients to replace the unhealthy or heavily processed ones, they may need to find different suppliers depending on any price increases for different ingredients.
The food and beverage industry depends on the demand of consumer taste requirements which are continually shifting and trending as new health and nutrition information surfaces and consumers seek more natural and health conscience choices.
This means manufacturers must keep as low of a price point as possible while offering more quality ingredients if they are to remain competitive and relevant.
For food and beverage manufacturers, this means that private-label products are becoming more popular, as are the ingredients and the packaging of gluten-free and saturated-fat rich foods.
Challenges
The food and beverage industry is an extremely competitive industry where manufacturers are competing to develop similar alternative products for consumers. Companies also feel dual pressure from both consumers and competitors, which may make manufacturers lower their prices. While competition alone is a challenge in this industry, the following are a few other forces that present challenges.
Technology
In order to remain relevant, manufacturers have to be able to prototype, test and launch new products that accommodate consumer trends and taste preferences.
Technology and processes should be equipped to adapt to automated processing, baking, canning, freezing or packaging while producing healthy products.
Seasonal Crops & Government Regulations
Since the majority of crops and foods are seasonal, cash flow is too. Manufacturers should determine the appropriate harvesting schedule specific to their crop requirements and hire parallel to that schedule.
For example, seafood, fruit and vegetable processing depends on seasonal and temporary work. Dairy and produce manufacturers may tend to rely on manual and temporary labor, while other food processing manufacturers are more efficient with automated processing.
Food processing plants are closely monitored on a state and federal level with regulations from OSHA, FDA, USDA, FTC and EPA that emphasize personnel and food safety and proper waste disposal.
Egg Shortages
Most food manufacturers depend on quality ingredients and seasonal change. For example, in 2015, the avian influenza outbreak caused the price of liquid eggs to more than double in a one month period.This interrupted daily operations and caused manufacturers' and consumers' costs to spike. The outbreak caused the price of liquid eggs to more than double in a one month period.
Egg shortages and price spikes affect egg by-products too, including:
Bread

Pasta

Ice cream

Cookies

Mayonnaise
The food industry faces many competitive challenges from food contamination and recalls to international trade restrictions and difficult working conditions. However, there are plenty of opportunities that this industry offers as well.
Opportunities
With the shift in consumer demands, from processed foods to healthier options, manufacturers have the opportunity to spice up their brand and tailor their products, or even introduce new products. Some of these opportunities include:
Developing healthier options

Updating new packaging designs

Including more detailed and specific labeling

Exploring vegan and/or vegetarian product innovations

Expanding your reach to Latin America and Asia-- which have a growing interest in Western foods
Where Do You Stand in the Food & Beverage Industry?
Consumers are shifting their food preferences to more natural, organic, healthy foods that are rich in saturated fats and cutting out the processed foods that are high in trans fats.
With this shift in food preferences, food and beverage manufacturers have the opportunity to not only update their packaging to a more natural and holistic look, but to also develop more wholesome products that align with their consumers' demands.
There are many challenges that surround this industry, including government regulating agencies, efficiency, and expansion.
For example, International Desserts & Delicacies (IDD), located in Glendale, CA, is a small food manufacturer with only 19 employees which has been creating delicious desserts for over 30 years. Recently, they began specializing in vegan cookies for certain retailers. It was important for them to have an Hazard Analysis and Critical Control Points (HACCP) plan and also obtain a Safety Quality Food (SQF) certification to stay competitive.
To view the profiles of the food and beverage manufacturers who participate in our Made in CA program, see below.
The food and beverage industry's growth is dependent on consumption, population growth, disposable income and consumer's tastes. Staying efficient is pivotal if manufacturers are to be, and remain, successful in such a highly competitive environment.