Continuous improvement is an essential part of staying competitive in the global marketplace; it entails regularly seeking new ways to be efficient in your operations while maintaining or increasing productivity.
This mentality enables your operations to gradually incorporate more streamlined processes over time rather than trying to tackle massive change all at once. One component of the continuous improvement approach is that of benchmarking.
Keep reading to learn more about what is benchmarking, its benefits, and review some example manufacturing metrics!
Quick Links:
What Is Benchmarking?
Benchmarking is the process of identifying gaps between your and others' processes or performance, evaluating your strengths and weaknesses, and advancing innovation by way of comparison and reflection.
Benchmarking is of tremendous value to your manufacturing operations and can help accelerate your organizational learning because it involves developing an external awareness of your competition that can lead to internal improvements.
With this process of intentional comparison, your manufacturing operations can take cues from successful competitors and strive toward pioneering new trends in the marketplace.
4 Types of Benchmarking
When reviewing what is benchmarking, it's important to note that there are four approaches to this process, including:
Internal Benchmarking: This type of benchmarking involves comparing internal manufacturing metrics across product lines, units, departments, initiatives, etc.
External Benchmarking: On the other hand, this type of benchmarking entails comparing manufacturing metrics from your organization with another company.
Performance Benchmarking: This is a foundational element of the benchmarking process and facilitates gathering quantitative data, such as key performance indicators, regarding your operations.
Practice Benchmarking: In conjunction with the quantitative data, practice benchmarking brings in the qualitative side of your manufacturing metrics and might be gathered from, for example, surveys sent out to team members regarding their perspective on a certain operation.
The most effective way to benchmark is to find the method that best suits your manufacturing organization's needs and challenges. Confer with your team to determine the best first steps to take when benchmarking your manufacturing business.
Benefits of Benchmarking for Your Manufacturing Business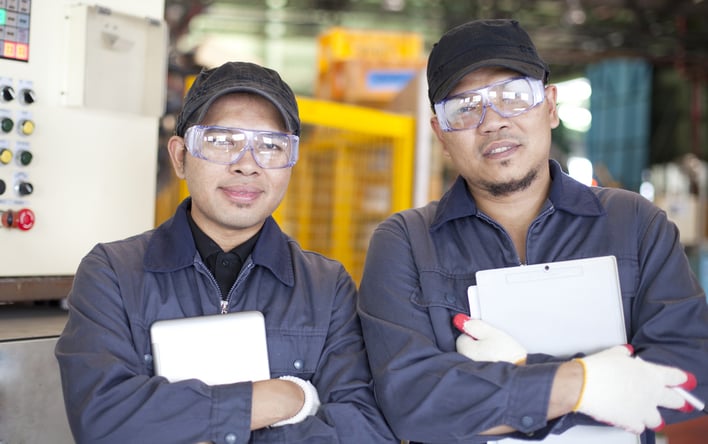 Benchmarking is important to your manufacturing organization because it empowers you to know where your company stands among your competition in the marketplace.
Recognizing the current standing of your business in the global marketplace provides a moment of reflecting on points of improvement and offers an effective gauge of your performance. After all, world-class manufacturing businesses consistently hold themselves to the highest standards of quality, reliability, and overall value as compared to lesser-quality competitors.
By paying attention to your competitors in the global marketplace , especially the organizations with the reputation for the highest quality, service and profitability, your manufacturing business is able to evaluate performance based on comparison. This promotes continuous improvement, which, in turn, facilitates action to streamline your operations. Benchmarking empowers your organization to collaborate internally and externally, identify new ideas, and ultimately create a new way of working.
How to Benchmark in 7 Steps
Now that we've discussed what is benchmarking, let's address how to actually do it. There are seven steps in the benchmarking process:
Select a product or process to study.
Determine which products or companies to compare.
Document the current state of your products or processes.
Outline the "Future State" or goal of products or processes.
Collect key data to compare your product or process performance against the desired state.
Decide if or what improvement is necessary.
Implement the changes to fill the gaps and bring the "Future State" vision to fruition.
To comprehensively carry out benchmarking, it's important to include everyone involved in the product or process. This might include:
Field service technicians
Internal or external salespeople
Operations and purchasing management
Key customer or buyer
Major suppliers
Industry organizations
Bringing in input and perspective from these parties ensures you're seeing the product or process from multiple perspectives who all share the goal of improvement and success. Additionally, ensure that everyone on the benchmarking team knows how to support your manufacturing company's objectives via this portion of continuous improvement.
If you're performing benchmarking against your competitors, then a crucial part of this process is deciding what information to gather about their performance. Consider these steps when doing research on your industry and competition:
First, understand your industry's standards for production, quality and performance; this will help determine an overall measurement by which to compare yourself and your competitors. Depending on your industry, there are several credible sources to find industry standards and trends year over year such as IBISWorld, Statista, Nielsen, the Bureau of Labor Statistics, and more.
There are numerous metrics on digital outreach and marketing by which you can measure your competition, such as keywords they dominate or how popular they're website is; tools like Ahrefs, Moz, and BrandWatch can help you learn how your own manufacturing site ranks in comparison to your competitors.
Since it's not typical for competitors to just widely announce metrics, you'll have to do some digging to see what you can find about their output and performance. This might be in the form of a sales report, news articles, press releases, or some other type of communication.
After measuring your problem against a set goal over a period of time, you're ready to perform a critical analysis. Find the gaps between the current state and your ideal future state and ask what you can learn from others or what can be changed to improve operations. Initiating conversation regarding your product or process encourages teamwork and collaboration within your manufacturing business, which results in deeper relationships and further understanding of various perspectives.
Finally, the best use of benchmarking data is to define accountability for processes that need to be improved and to set priorities to achieve these goals. When you and your team have accumulated the data, express metrics as ratios in order to describe how a product or process is performing. Post these metrics in a highly visible area, such as a company break room, so that employees are aware of performance data and can engage in the benchmarking process.
Examples of Manufacturing Metrics That Drive Excellence
The following examples of metrics by category that drive excellence can help you gain insight into specific aspects of your manufacturing process and therefore boost your company's performance:
​​Purchasing Metrics
# of items on the shortage list, per week
# errors per purchase order
# of orders received without PO
# of expediters per direct employee
# of production stops for lack of supplier parts
# of items billed but not received
% of supplies delivered on schedule
% decrease in parts cost year-to-year
% of discount orders by consolidating
% of suppliers with 100% lot acceptance
% of parts with two or more suppliers
Routing errors per shipment
Labor hours / $10,000 purchases
Purchase order cycle time (from customer requirements to payment)
% of lots received on production line late
% of phone calls dialed correctly on first try
% of POs returned due to errors or incomplete
% of defect-free supplier parts
% projected cost reductions missed
Average time to replace rejects with good parts
Time required to process equipment POs
Time to answer customer complaints
# of supplier parts scrapped due to ECO
Actual purchased materials vs. budgeted
Total cost of expediting rush orders
Average time to fill emergency orders
Safety / HR Metrics
OSHA recordable accidents (frequency) [# of Accidents * 200,000 / # of hrs. worked]
Total days away from work [# Days Away * 200,000 / # hours worked]
Absenteeism rate
Presentism rate
% of employees active in professional societies
% of overdue safety meetings
Actual incidents and near misses
Safety inspections completed
Safety training hours conducted effectively
Worker's compensation modification rate
# of first aid incidents
# of job safety analyses or job hazard analyses
Engineering Metrics
% of CAD errors per print
% of prints released on schedule
% of test plans that are changed
% of floor space devoted to engineering storage
% of error-free designs
% of repeat problems corrected
# of times a print is changed
# of off-specifications approved
# of errors found during design review
Degree product met customer expectations
Field performance of product
Time to correct a problem
Time required to make an engineering change
# of repeat problems from previous products
# of products that pass evaluation error-free
# of off-specifications accepted
# of days late to review
# of corrective action schedules missed
# changes to layout after first gate release
# of design completions past due
Spare parts cost after warranty
# of hours lost in error in purchase requests
# of repeat call hours for the same problem
Quality Metrics
% of product that meets customer expectations
% of quality personnel to total personnel
% of quality Inspectors to manufacturing directs
% of lots going directly to stock
# of customer complaints
# of errors detected during design reviews
# of quality audits performed on schedule
# of QE's, product, and manufacturing engineers
# of engineering changes after design review
# of changes after process qualification
# of early detections of major design errors
Time to answer customer complaints
Variations between inspectors doing same job
# of reject orders not dispositioned in 5 days
# of customer calls to report errors
# of off-specifications approved
# of manufacturing interruptions caused by supplier parts
% of correlated test results with suppliers
% of PN's going directly to stock
% product cost related to scrap and rework
% skip lot inspection vs. goal
% of qualified basic vs. premium suppliers
Total receiving inspection cycle time
# of internal defects from all sources
# of external defects reported by customers
Manufacturing Metrics
# of improvement suggestions per employee
# of preventable operation errors
# of errors in operator training docs
# of delays due to wrong work instructions
# of hours to solve a quotation problem
# of production errors escaping detection
% of tools that fail certification
% error in manufacturing costs
% errors for equipment in tooling budget
% of units that failed certification
% errors in planned yield projections
% errors in product quality goals
% of trials requiring revision
# of undetected problems during manufacturing
# of tests performed on schedule
% of tools ready on schedule
% of drawing errors found during review
% error in yield projections
% repeatability between testers
% projected cost reductions made
% of action plan schedules made
% of equipment utilization time
# of changes to process specifications
# of waivers to manufacturing procedures
In-process yields vs. goal
Production Metrics
% of controllable late deliveries
% of uncontrollable late deliveries
% of errors in stocking
% of planned jobs completed on schedule
% of errors in purchase requisitions
% of products that meet customer orders
% of parts not in stock when requested
% of stock errors in warehouse
# of employee improvement suggestions
# of items exceeding shelf life
Inventory turnover rate
Inventory consumption velocity
Timeline is down due to parts shortage
Dwell time of product on shipping dock
# of bill or loading errors missed in shipping
Cost of rush shipments
Cost of inventory spoilage or obsolescence
Holding costs of excess inventory
Time required to incorporate engineering changes
Dock-to-Dock (receiving to shipment)
Shipping Metrics
% of parts not packed to specifications
% output that meets engineering specifications
% of jobs that met original cost estimate
% of jobs that met original schedule
% of product defect-free at 3 critical points
% of employees trained to do shipping
% of utilities left running at end of shift
% of unplanned overtime hours per month
% of time log book filled out correctly each week
# of accidents & near misses per month
# of units shipped vs. plan
# of improvement suggestions per employee
% of operators certified in their jobs
% of shipping errors per week
% of products defective found at final test
% of control charts updated by the 3rd of the month
% of invalid test data
% of test data acceptable on first pass
% of daily reports turned in on time, at 7 a.m.
% of late shipments, measured dock-to-dock
% of products error-free found at final test
Complaints on shipping damage
Labor utilization index
Defective units within 90-day warranty period
Scrap and rework cost below plan for month
CMTC Can Help Facilitate the Benchmarking Process with Our In-House Experts!
Not sure where to start with determining which product or process to prioritize? Want a second opinion to evaluate your manufacturing operations and help identify points of improvement? CMTC is here to help!
With our in-house experts that have experience across nearly all areas of the manufacturing process, you can gain insight into streamlining your operations and making your business as efficient and optimized as possible!
About the Author
Eliot Dratch
Eliot Dratch is a quality, lean and safety consultant who understands that U.S. manufacturing has been the economic engine that raised the living standards and built economic equity for the last 6 generations of Americans. Eliot's work with manufacturers for his entire 30+ year career from different manufacturing sectors allows him to leverage a unique blend of experience for his clients. His goal is always to measurably improve a CMTC client's productivity, safety and profitability.