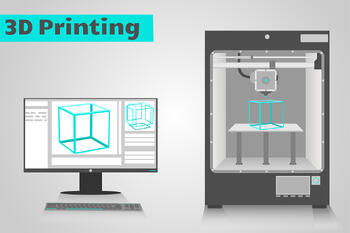 In a 2012 article by Brad Hart, Forbes magazine touted additive manufacturing, or 3D printing, as a "game changer." The author stated, "The possibilities are endless, and the opportunities are coming fast and furious."
Fast-forward two years. The advances have been incredible. It seems that there is a new 3D printer introduced every day that is more powerful than the one before it. Products produced from 3D printers have evolved beyond small, plastic parts to include metal and paper products as well. And, continually, new medical and assistive technologies are being developed for those with disabilities through the use of 3D printing technology.
However, in the midst of all this innovation lies a challenge for many small and medium sized manufacturers. Many in the back of the room at meetings and conferences are saying, "Additive manufacturing is a disruptive technology. Is it right for my company?"
How could something so powerful and revolutionary be labeled as "disruptive?" It helps to define a "disruptive technology."
A "disruptive technology" is one that detracts from the day-to-day operations in any manufacturing facility. It is the "bright, shiny object" that we know exists and want to play with, but that will take time out of producing parts for our customers. It is a technology whose benefits aren't clear enough yet to overcome doubts.
Using this definition, a new ERP system, robotics and automation could all be considered "disruptive technologies." They detract us from executing the existing manufacturing processes necessary to ship quality products on time. However, they hold the promise of better, more efficient operations and new markets for our products and services. The promise is minimized by doubt as to the impact these technologies will have on the company.
As a manufacturer, do you stay the course and stick with proven technologies, or do you embrace "disruptive technologies" like additive manufacturing? To effectively analyze your situation, you must consider the opportunities associated with employing additive manufacturing in your operation and weigh those against the disruption to your operations that additive manufacturing might cause.
Additive manufacturing provides the following opportunities for small and medium sized manufacturers:
Truly rapid prototyping
Do you remember when "rapid" prototyping meant a lead-time of weeks or months to design and manufacture? This was primarily due to the need to manufacture a prototype tool or fixture, as well as outsourcing at least a portion of the work, as many manufacturers focused on production, and didn't want to tie up valuable time and equipment time to produce one prototype part.
With additive manufacturing, you can design and produce a prototype on a 3D printer in hours. Instead of designing for manufacturing you can now manufacture for design. And, the lead-time is getting shorter and shorter, as new printing technologies continually reduce fabrication time. In addition, parts can be produced to specifically meet complex customer specifications. This is a paradigm shift for prototyping.
What can this mean for your company? With a relatively small investment in a 3D printer and expertise, you can now quickly produce mock-ups of a new product and have it in the customer's hands in a matter of days. No more relocation of time from production to produce a prototype. No more expense from outsourcing prototype work. And, you can produce a part to meet a very specific market niche, which could lead to production of high-profit margin products.
Fast and inexpensive on boarding of new product production capability
Have you been longing to use your expertise to grow your market? Perhaps you participated in one of CMTC's Innovation events and discovered an opportunity to produce custom, low volume, high margin parts to compliment your current offerings. With the affordability and accessibility of powerful 3D printing devices by such recognized names as HP, you can now literally purchase a printer, set it up, learn how to use it, and start "playing" within a matter of days.
What if you don't know how to use a 3D printer? When additive manufacturing first came to the market, there were only a few resources to assist manufacturers in using the technology and those that existed tended to be very expensive. Now, universities are offering additive manufacturing programs, student design projects and outreach services to manufacturers at reasonable prices. These services often include use of the school's 3D printing technology and technical assistance to help your company incorporate additive manufacturing in your facility. For example, RapidTech at the Univerisity of California Irvine in Orange County offers the use additive manufacturing equipment and technical assistance. This is a great way to "try before you buy."
There are other free or inexpensive ways to acquaint your company with additive technology and possible applications to your situation. CMTC sponsors additive manufacturing workshops, which include presentations from experts and resources in the field of additive manufacturing. These events can help you evaluate if additive manufacturing is a good fit for your business situation.
Incorporating additive manufacturing technology into your operations has never been easier or less expensive!
A means to attract talent, expertise and enthusiasm to your company
In the second article in our blog post series on attracting those from the millennial generation, "How to Attract Millennials and Preserve the Future of Manufacturing" we discussed the incorporation of additive manufacturing and other new technologies into your workplace to attract skilled workers from this population. As stated in that article, you can use additive manufacturing equipment to attract young, skilled workers to your facility.
Consider whether to invest in additive manufacturing or not. Don't dismiss additive manufacturing as a "disruptive technology," though, until you consider the opportunities.
Is additive manufacturing for you? Contact CMTC to register for upcoming events and to discuss your questions and ideas with a CMTC Business Advisor.