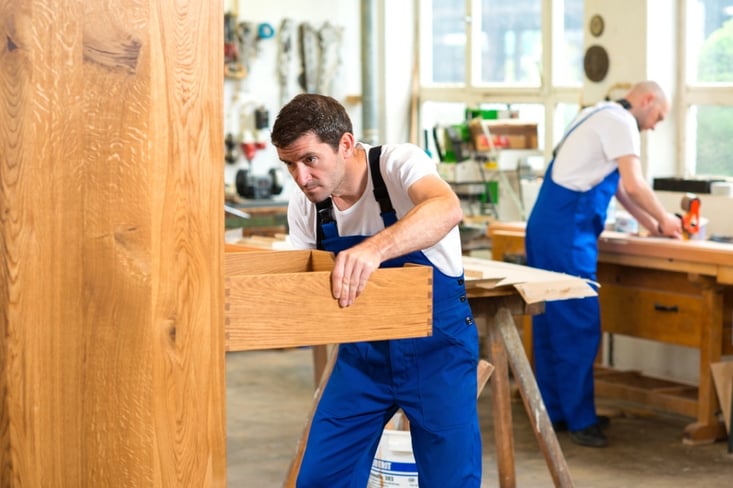 With the growth of millennial consumers buying furniture, U.S. furniture manufacturers are moderately optimistic about the steady increase of new furniture sales in the coming years. The National Association of Realtors forecasts existing-home sales growth of 4% for the residential property market in 2018, which could, in turn, have a positive impact on the moderate furniture industry performance.
Overall, the U.S. furniture market is expected to experience growth. The market registered a 4.5% increase in growth in 2016, placing its overall value at $114 billion. Although the first six months of 2017 saw a softened increase of 2.5% in consumer spending year over year, the U.S. furniture market is anticipated to grow at a "compound annual growth rate of 2.9% through 2019."
While the demand for furniture in California and the U.S. have remained strong overall, California's household furniture manufacturing industry — which has an estimated revenue of $3 billion — has stagnated over the past five years. This is due, in part, to an increasing import penetration and high in-state operating costs.
Furniture manufacturers in California and abroad need to be abreast of emerging trends that are shaping a new furniture industry landscape. The trends focus mainly on the fundamental shifts in U.S. consumers' buying preferences due to changing lifestyles. They can either pose some challenges or open doors to new opportunities.
Trend No. 1: More People Are Renting
According to a new Pew Research Center report, 36.6% of household heads rented their home in 2016, the highest since 1965. Rising home prices, apprehension from the burst housing bubble, rising student debts, and the delay of millennials to get married or start their own families are some of the reasons owning a home is not a priority, as yet, for some Americans. Additionally, the U.S. consumer goods rent-to-own market, which includes businesses like Rent-A-Center and Aaron's Inc., is increasingly growing and is expected to continue that upward trend through 2020.
The challenge and opportunity: Renters are likely to look for more affordable furniture options in the same manner as landlords will opt for more cost-effective furnishings for their home rentals, with a growing number renting their furnishings rather than outright buying them. A growing trend also is leading toward consumers shopping for smaller furniture to fit their rental homes or apartments where space may be at a premium. To turn this challenge into an opportunity, furniture manufacturers may want to add more items to their inventory of inexpensive, streamlined or multipurpose furniture to suit these smaller living spaces, as multifunctional furniture is rapidly gaining popularity.
Trend No. 2: Single-Person Households are Increasing
24% of households in California are single-person households, according to 2016 Statista data. Single-person households are expected to increase over the next 15 years, according to a 2015 article by Deloitte Insights. And smaller households are opting to live in apartments or smaller homes. This calls for the demand of smaller homes, an increase in availability of more modular, space-saving and multifunctional furniture, and furniture for storage.
The Challenge and Opportunity: Furniture manufacturers should take this as both a challenge and opportunity to create new designs as an addition to their portfolio of offerings, further promoting their brand.
Trend No. 3: Different Generations Have Different Lifestyles
The bulk of the furniture market is composed of millennials, generation X, baby boomers, and seniors. With lower disposable income and higher levels of debt, millennials tend to delay the decision to start a household — which poses a potential problem because they represented 37% of the furniture and bedding market in 2014. They also have different shopping habits (more online-centric) than other generations and tend to prioritize more sustainable product purchases.
The GenX group, which tends to be more affluent and represented 30% of the market, have different tastes or needs when it comes to furniture and buying preferences. The baby boomers and seniors are the settled consumers and they represented 29% and 4% of the market, respectively.
The challenge and opportunity: The generational demographic of consumers calls for furniture manufacturers to diversify their products to cater to the specific needs of each group. While this may mean additional investment on new design and innovation, it also creates new possibilities for additional revenue sources and a motivation to embrace more sustainable processes and resources.
Trend No. 4: Online Retailing
Online retailing has been around for some time but it will continue to be a preferred buying channel for millennials in particular. With instant access to catalogs and price lists, customers have a clearer idea of what they want.
The challenge and opportunity: Online retailers have taken away a good portion of the market share of brick-and mortar retailers. Not all is lost for store owners if they start embracing online and mobile technology and deploy them in their physical stores. For manufacturers, the increase in online shopping means an opportunity to sell to online retailers that are not limited to a physical geographic area.
Innovation is critical to the future of furniture manufacturing. The steady growth prospects of U.S. furniture manufacturing have attracted a host of companies to introduce innovative furniture creations. A quick search on YouTube can result in videos that show furniture that can be assembled in minutes without tools or multifunctional furniture that converts or includes hidden storage. And a furniture manufacturer has designed smart furniture that is able to monitor and record health-related data, such blood pressure, breathing, heart rate and body temperature.
The Scope of Furniture Manufacturing
In a nutshell, the furniture industry is changing but its image remains intact. A large challenge facing furniture manufacturers is their ability to overcome the negative perception with a younger workforce. As in other types of manufacturing environments, advanced technologies will also be introduced in furniture manufacturing. This may help to eliminate the perception of the dusty work floor, physical labor image and transform the industry. Who knows what the future may bring as new technologies are introduced?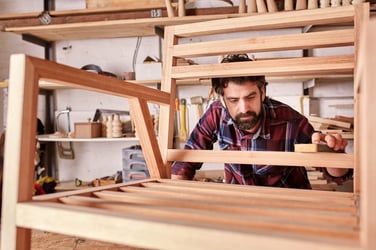 The following are a few California manufacturers that are a part of the Made in CA program that offer custom and/or high-end furniture.
If you're interested in learning more about how your manufacturing company can be a part of the Made in CA program or can help stay up-to-date with the trends and opportunities while overcoming challenges, contact a consultant at CMTC today.
Editor's Note: This post was originally published in June 2016 and has been updated, refreshed for accuracy and comprehensiveness!