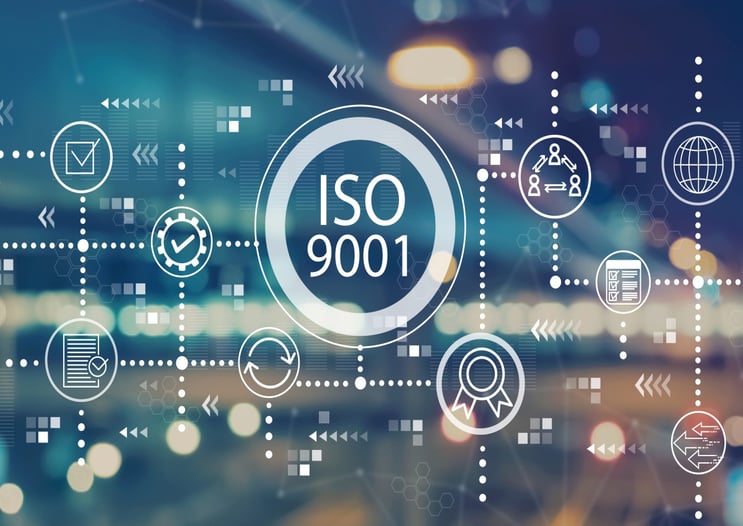 The International Organization for Standardization (ISO) informs thousands of industry leaders around the world about global standards for manufacturing processes, safety requirements, quality assurance, and more. Being ISO certified offers numerous advantages to both your manufacturing business and your customers. Follow these tips to become ISO certified and reap the benefits for your organization!
Quick Links
What is the ISO?
The ISO (International Organization for Standardization) is an independent, non-governmental, international organization that develops standards to ensure the quality, safety, and efficiency of products, services, and systems. As technology continues to rapidly develop, new standards are drafted and implemented by people at all levels within the global industry going through standardization.
The organization's origins date back to 1946 when 65 delegates from 25 countries met in London to discuss the post-war future of International Standardization. In 1947, ISO officially came into existence with 67 technical committees, or groups of experts focusing on a specific subject. Over the last 75 years, the ISO has further evolved to include 165 member countries, nearly 800 technical committees and subcommittees, and more than 23,000 international standards.
What Does "ISO Certified" Mean?
To be certified by the ISO means that you have been audited by an independent 3rd party, and that you have demonstrated your business conforms to the requirements of the latest quality process standards set by the International Standards Organization. This certification signifies that your processes work efficiently and effectively, and are consistent with the international best practices (aka The Standard).
This is beneficial for your company both internally and externally. Internally, because you are likely to build and ship better quality products that delight your customers and will arrive on-time. And externally, because you can now market that fact to the outside business community, which would translate into higher sales levels with a better set of customers. Companies that have solid processes build high-quality products that arrive when needed, and those companies develop great reputations and followings.
There are numerous ISO certifications that are industry-specific, ranging from energy management and social responsibility to risk management and occupational health and safety. In addition to having its own specific criteria and set of standards, each ISO certification is classified numerically. For example, the ISO certification for quality management systems is ISO 9001:2015; which means that the standard number is 9001 and it was released in 2015.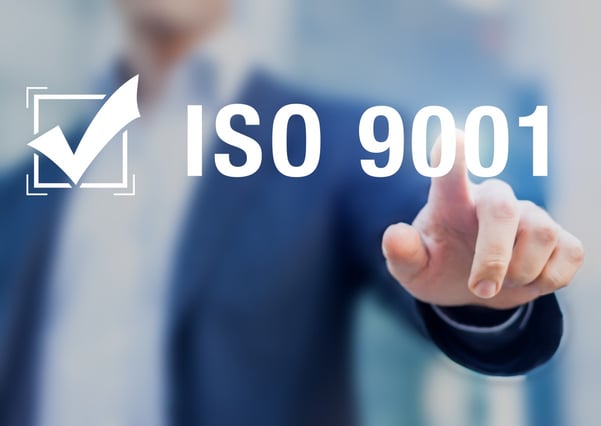 Why is Getting ISO Certified Important for Your Manufacturing Business?
Being ISO certified offers numerous advantages for manufacturers. There are several reasons why being ISO certified matters for manufacturing businesses.
Stay Updated With The Latest Industry Standards and Regulations
By achieving the latest ISO certification, your manufacturing business demonstrates that it has the capability of delivering high-quality products that meet all industry regulations, are delivered on-time, and which delight the customer. This is crucial for your business as your products should reflect the measures taken to create consistency and confidence in a global manufacturing market. On a more practical note, being ISO certified means your business has all the necessary tools, resources, and equipment for creating your product or service.
Instill Trust With Customers
When your manufacturing business is ISO 9001 certified, it translates into your work demonstrating adherence of and conformity to the ISO standards. Customers and regulators can trust that your products are fulfilling all requirements and that your business is consistently maintaining the appropriate steps and documentation to improve and maintain your operation.
How to Become ISO Certified
Individuals cannot become ISO certified -- only businesses and organizations can. Additionally, ISO doesn't provide the certification; certifications are only made possible through third-party organizations. However, as you might expect, the ISO does have a Committee on Conformity Assessment (CASCO) which manages the qualifications of the certification process.
When choosing a certification body, it's important to evaluate a few agencies to select the best fit for your organization. One of the points to consider is if that agency utilizes the latest, relevant standards and if they are an accredited body. The timeline of certification training depends on numerous factors, including studying the requirements, level of preparation of an organization, and the size and complexity of the organization. Most can expect to receive their certification in three to six months.
Gain Insights & Support from CMTC as Your Manufacturing Business Becomes ISO Certified
In late 2015, the International Organization for Standardization (ISO) published their latest edition of ISO 9001 — ISO 9001:2015. This latest edition will give your company the standards needed to thrive in the face of advancing technologies and increasingly complex supply chains.
CMTC created this complimentary ISO Tip Sheet to break down the details of the latest edition of ISO standards. Have more questions about how to become ISO certified? Reach out to our manufacturing experts for guidance today!
About the Author
Eliot Dratch
Eliot Dratch is a quality, lean and safety consultant who understands that U.S. manufacturing has been the economic engine that raised the living standards and built economic equity for the last 6 generations of Americans. Eliot's work with manufacturers for his entire 30+ year career from different manufacturing sectors allows him to leverage a unique blend of experience for his clients. His goal is always to measurably improve a CMTC client's productivity, safety and profitability.