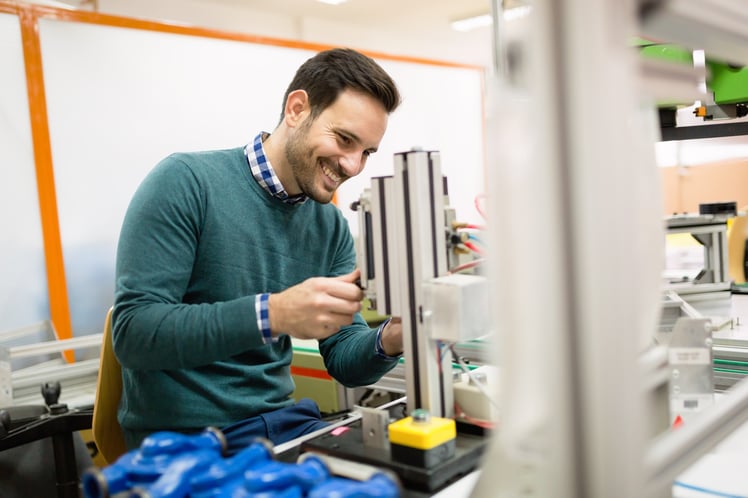 ISO 9001 is an international standard that specifies requirements for a quality management system (QMS). Organizations use the standard to demonstrate the ability to consistently provide products and services that meet customer and regulatory requirements.
The benefits of being ISO 9001 certified are that it will help and support your staff and improve your level of customer satisfaction. The benefits of ISO 9001 can be encapsulated in the catchphrase "Great things happen when the world agrees" – the slogan that prominently appears on the ISO website.
ISO 9001 is important in food manufacturing due to its risk-based control measures and standardization from the QMS. For a small to medium-sized manufacturer (SMM), having a QMS allows you to monitor irregularities for food safety standards – and enforces a higher degree of quality industry-wide.
The results of following these standards result in growth, profitability, and cost savings for SMMs.
New Standards for Management, Handling, and Storage of Food Products
The United States Department of Agriculture (USDA) estimates food waste in the U.S. to be between 30 and 40% along the food supply chain. According to state records, wasted food accounts for 18% of California's landfills alone.
In order for a company to boost growth and savings, management, handling, storage, and transportation of food products need to be continuously monitored. This is where the ISO 9001 certification comes in.
Benefits of Being ISO 9001 Certified
As a California SMM, having an ISO 9001 certification means that you have an efficient management process in place to monitor the production process. It also opens the door for continuous improvement, In addition, it may highlight shortcomings in production in order to fix them immediately, rather than further down the line when it could affect budget and bottom line.
Here are some other substantial benefits to the certification:
#1: Boost staff performance and overall productivity. Engaged employees are motivated to implement processes that are put in place to ensure that problems are quickly identified and resolved in a timely manner.
Your QMS, is a formalized system containing procedures, documents, responsibilities, and processes for quality processes and objectives. It may be summarized as a set of requirements for success and satisfaction.
It also establishes continued training and developmental programs for employees to equip them with skills to cope with the changing needs of customers. This will also ensure that your business will continue to operate effectively even when key people leave.
#2: Flesh Out Your Company's Processes. A key component of ISO 9001 is having thorough business processes, and the ability to define responsibilities for quality control, as well as relaying those specifications to employees. Your QMS needs to provide valuable metrics such as on-time delivery to commit, throughput, and overall equipment effectiveness to accurately reflect your system's performance. This will help you make better decisions to improve growth and profitability.
#3: Reduce Waste and Improve Efficiency. Rather than focusing on mistakes after the fact, an effective QMS hones in on preventive measures, so wasteful problems can be avoided altogether for the future. The certification enforces a continuous improvement strategy, so you're always, by design, seeking ways to reduce waste and improve efficiency.
#4: Provide an improved customer experience. The ISO process improves customer service for a variety of reasons. It identifies key areas that are most important and a priority to your customers. It then outlines the process on how you can implement it based on their expectations and needs. After all, delivering a product that reduces waste and cost means you can bring more value to your customer, which will reinforce their loyalty to you.
ISO 9001 Certified Benefits SMMs
Having an ISO certification is important for SMMs because of its ability to enact growth, profitability, and cost savings. The benefit of reducing waste also allows your workforce to be more efficient and establish ongoing QMS standards for improvement and sustainable customer success.
If you'd like to learn more about how we're making an impact for SMMs in California, we'd love to hear from you. Feel free to subscribe to our blog for future updates.