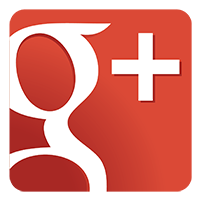 All good things must come to an end. It is our 7th and final blog entry of our social media for manufacturers blog series! If you would like to read the full series, you can access the other entries by clicking on the following links:
Our last blog entry brings us to the wonderful world of Google+. Google began in January 1996 by Larry Page and Sergey Brin, PhD students at Stanford University. Since then, Google has become a top search engine for helping users find information on the Internet. It has turned into such a recognized company name that "Google" is defined as a verb meaning "to use the Google search engine to obtain information about (as a person) on the World Wide Web."
The company has produced many services and applications since its creation. One of its most recent creations is Google+ (Google Plus, abbreviated as G+), a social networking and identity service, launched in late June 2011.
For those businesses who are interested in staying on top of their social media game, Google+ is the next step in social media innovation. However, the addition of another social network onto the Internet landscape may seem redundant and unnecessary to some. Wondering what makes G+ stand out from other social networks?
Here are features of Google+ that Facebook, Linkedin and Twitter don't have:
Looking for more information? Here are five best practices for your company's Google+ page:
Share LOTS of

Photos

– Images, charts or slides you share on Google+ spark conversations and increase spread of your content.

Add Recommended Links – Adding links to blog articles and lead generation offers drive more traffic and leads for your business.
Promote Your Google+ Page on Your Blog and Website – Websites using Google+ button

get 3.5 times the Google+ visits.

Encourage People to Share Your Posts – Asking your subscribers to share your content spreads it to the people in their circles.
Analyze

Traffic and Leads From Google+ – By looking at the traffic and leads that have been driven from Google+, you are able to see how it is working for your business.
Google+ is becoming increasingly popular and benefits companies looking to enhance their visibility on the Internet. With all the pluses to Google+, there's no reason to not add it to your online marketing strategy. Google + is close to a necessity these days. Not only is Google one of the most powerful and largest search engine, but in order to utilize Google's toolkit (Gmail, Adwords, Youtube, etc) you need a Google + account.
We hope this social media for manufacturers series helped you learn a little more about how social media works in the manufacturing field. Until next time, don't forget the importance of connecting!